Calary Church
Concerts

Calary Church, which has wonderful acoustics, has, in recent years, played host to a number of, mainly classical concerts. The performers have, in the main been young, local artists such as Redmond O'Toole, Sarah Power from Bray and James Dunne from Wicklow. Sophie Cashell, who won the inaugural Classical Star competition on BBC2 in 2007, has performed in Calary on a number of occasions, both as a soloist and also with her sister Anna and brother Ben.

Calary also holds an Arts Festival every 2 years, which features paintings by local artists.

Profits made from the concerts and arts festival are used for charitable purposes.

If you would like to receive emails about future events, please click here to contact us.
Calary Church History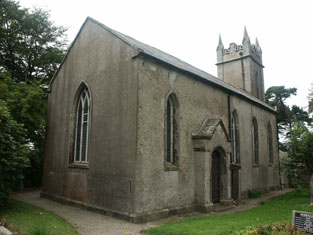 The present Parish of Calary was formed out of parts of four parishes- Delgany, Derrylossary, Powerscourt and Newcastle in 1831. It covers a large area of rugged and boggy land from the Sally Gap to the Glen of the Downs and from the Sugar Loaf to near Roundwood. Two famous rivers have their sources in the parish, the Vartry and the Liffey as well as two well known mountains, War hill and Djouce Mountain. The building of Calary church was commenced in 1832 and completed in 1834. It is a small neat building in the later English style, with a square embattled tower with four pinnacles.
Calary remained a separate parish until 1941 and in 1970 became part of the current Parish of Newcastle and Newtownmountkennedy with Calary.
One of its more famous clergy was the Rev John Nelson Darby, who was a curate of Delgany parish and was in charge of the Calary district (1826-1828), prior to the official establishment of the parish and building of the church. He held church services in the old Calary School. When the church was built his pulpit was transferred from the school to the church where it is placed to-day at the west end of the church. At a later period a new pulpit, reading desk and Holy table was erected at the east end. He subsequently ceased to be an active minister in the Anglican Communion and went on to found the Darbyites and later helped to found the Plymouth Brethern. He travelled the world spreading his message.
This extract has been taken from the Commemorative booklet on Calary Church and Diocese of Glendalough (1984) which was written by Canon Robert Jennings (former rector of Calary)